VegasCasino is Nordic Player's Newcomer of the Month!
VegasCasino has decided to get rid of all the unnecessary wagering requirements plaguing the world of casinos! Be sure to read our review and, among other things, see how they solved this issue!
VegasCasino Welcome Bonus
VegasCasino is serving customers in many markets, and they have made sure to reward their newest customers in a multitude of ways. These people know their customers and, as a result, have different kinds of welcome bonuses available for different regions. Just to give you an example, here is what good folks in Canada and New Zealand are getting:
1st deposit: 100% up to $500
This is not all, however, as new customers from these two regions will also receive 20 free spins on Yggdrasil's Penguin City upon registration! Thanks to these completely complimentary bonus spins, there is really no reason not to register and try your luck with some of the best slots on the planet!
There is something very strange and unique about VegasCasino's bonuses that we have yet to mention. That is the fact that this casino does not believe in wagering requirements at all! What this means is that when you deposit, say, $50, you will receive $50 worth of bonus money, but this bonus is not withdrawable and does not have any wagering requirements associated with it whatsoever. The trick here is that you can always withdraw money that is above the sum of your bonus and, even if you were to lose some of your own, you can always come back from playing with bonus money by just winning more money and filling your bonus back up.
Why, then, would you want to play with a huge bonus if you cannot even withdraw it, you ask? Because the bigger the bonus, the more chances you will have to win big! In fact, you could even try depositing a lot of money and then just using a high bet to try and win plenty of cash to put back onto your account! It truly is a fun bonus system with great T's and C's to go along with it!
General information about VegasCasino
We at Nordic Player have become known for our strict work ethic. We always make sure to work hard to secure the best online casino deals and links to share with our readers. By doing this, we can ensure you that using our site will be beneficial to you. By following our news and reading our reviews, you can be absolutely certain that you never get the short end of the stick. On the contrary, with us, you are getting a whole wooden cane worth of lucrative offers!
It is already November, which means that it is high time to introduce you to the Nordic Player Newcomer of the Month! After an arduous selecting process, we have decided to give this honour to VegasCasino—an old casino that has made a huge resurgence after some new owners working their magic to enhance their craft. To make things interesting, this casino is not your run-of-the-mill affair but a very unique casino indeed! And now it is time to read all about it!
When VegasCasino actually decided to get their act together in the Summer of 2018 and revamped their whole site, they were offering these huge bonuses every Friday to spice things up. It was not for long, however, as people must have been taking advantage of their huge welcome offer and just cashing out on some big wins left and right. Nowadays, things have changed a little bit, but VegasCasino still has a cool weekly campaign called Happy Friday available. In this campaign, depending on how many times you deposit over the week, you will get a different-sized extra bonus offer each Friday. Deposit once or twice during the week, and you will receive a 50% bonus up to $100. With 3 to 4 deposits, you will be getting 75% up to $150. If you want to go all-out, however, and deposit 5 times or more, you will enjoy a whopping 100% all the way up to $250!
VegasCasino Platform & Layout
When you hear the name VegasCasino, you are probably thinking of a very flashy casino that will more than likely end up making your eyes hurt before you are done playing. Luckily, this image could not be farther away from the truth as VegasCasino is a very stylish casino that mixes a whole cavalcade of colours from cool blue to warm red. This casino succeeds in being both mature and exciting at the same time, which is definitely not an easy feat to pull off.
The beauty of VegasCasino does not even end in neat colours. Instead, this casino is an absolute joy to navigate with all the most important things plastered on the left part of your screen. You really cannot get lost here, although we are kind of missing the option of being able to search for games based on the provider. If they could just add this little feature, this site would truly be one of the handiest online casinos to use.
VegasCasino Customer Support
Should you have any questions whilst exploring VegasCasino, their crew is ready to answer all your questions via LiveChat or e-mail. The support team is available between Monday and Saturday from 10:00 to 22:00. It is also a huge advantage that the friendly support of VegasCasino is available even on Sundays, between the hours of 12:00 and 20:00.
VegasCasino Withdrawal and Deposit
Winning at VegasCasino is extra fun, as the casino promises to process all withdrawal requests within 24 hours! The average release time of your winnings is as low as 6 hours, which is far below the time many casinos use. Players can deposit and withdraw via Worldpay, Skrill, Neteller, Ecopayz, Paysafecard and more.
VegasCasino Games & Providers
Being that Nordic Player selected VegasCasino as the Newcomer of the Month for November, it is only appropriate that we continue listing all the best things about this place. The remarkable bonus system was already one of them, but there is plenty more left where that came from!
The games selection at VegasCasino is a sight to behold. Even though there are only about 400 to 500 games here, this casino only hosts the best and most popular providers in the industry. Names such as NetEnt, Play'n GO, Quickspin and Yggdrasil will no doubt ring a bell with most of our readers. These are the four companies responsible for making this very casino's games selection be all about quality over quantity. Just like it should be.
VegasCasino has made sure that there are some pretty unique ways to search for games. We wrote this review in Winter, and what do you know—VegasCasino allows us to search for Winter-themed slots with the just one single push of a button! Not bad!
VegasCasino is Licensed & Secure
Ever heard of Malta Gaming Authority? Online casinos should never mess with these guys, and VegasCasino has done well in getting licensed by them. This casino is a trustworthy, safe and secure place to game!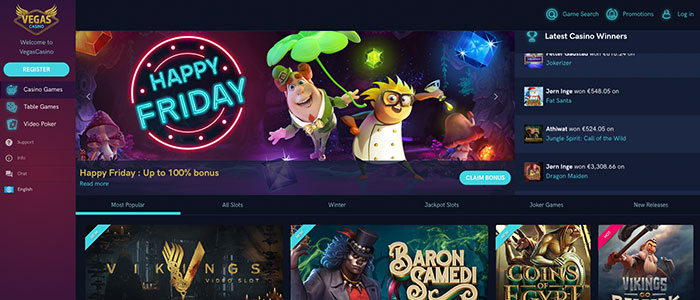 Fun Facts about VegasCasino
Nordic Player does not want to be just like everyone else in the business, which is why we have made it a habit of coming up with some fun facts about each and every online casino that we write a review about. With VegasCasino, we have just about said our piece already, but there is one thing that we want to discuss—and that is the prevalence of Las Vegas in online casino names!
Some of our readers might already know this, but revenue-wise, Las Vegas is not even the biggest casino city in the world! While this honour actually belongs to the city of Macau in China, we have never seen any online casino names referencing Macau! Being that VegasCasino probably would not mind becoming the biggest online destination for gambling, we wonder why they chose this name instead of, say, Macau Casino…
Conclusion
Having read our review, you can most likely see why we chose VegasCasino as our Newcomer of the Month. 2018 has been a huge year for online gaming, and this casino has done all that it can to elevate things even further. If you are looking for a fine welcome offer with great terms and conditions, this fresh and new site is simply a fantastic choice!