General Information about King Billy
Thank God for Wikipedia. How could one, without this marvel of marvels, discover in seconds the list of Kings of Sweden? From King Eric the Victorious to King Gustav I in the Middle Ages and then to the modern Kings of Sweden (who seem to almost live forever) they are all there, in the Wikipedia Swedish monarchs article, stored and presented in the usual clean and neat Scandinavian way.
Enter King Billy, the new King of Sweden! Heresy? Vandalism? Coup? Nope, Swedish users needn't rush to the Palace and bring down the usurper. King Billy is the new King of online casinos in Sweden and you won't find him in a Wikipedia article although were there a Playerpedia, he would already be having his own article!
Quo vadis King Billy? "To steal the hearts of the players" he answered. Well, this is a tough one in our modern world where players have a long list of online casinos to choose from and a short attention span. But is seems that King Billy and the people behind him (or should we say "at His Majesty's service"?) have thought it all. Because what makes the story of this casino a truly exceptional one is… its story. Let's discover it.
What does King Billy look like?
There is a three letter word which can also be read backwards when one visits the King Billy Casino for the first time: wow. And the wow factor does not come from shining carousels full of 3D hairy, oversized funny little creatures and monsters, which although cute and sweet, have become a rather common online casino experience, especially for the seasoned Nordic player.
The wow factor comes from a very minimalistic design, with the King himself very imposing and absolutely stunning, looking at us, from what we presume to be is the King's Palace. The graphics are very well designed, not overdone in purples and pinks and the whole ambience is something that the Kings of Westeros (at least, those who are alive by Season 7) would applause by raising their Valyrian steel (boys) or eyebrows (girls).
The top menu provides all necessary information with just three buttons; they are about the Legend, the promotions and the VIP Club. There are also buttons to register an account or log in. As a result, the navigation in King Billy is pretty easy and intuitive. Experienced Nordic players will feel at home almost immediately and even beginners will have no difficulty in navigation whatsoever.
Unbeatable advantages at King Billy
• There is a total Welcome Bonus of up to €1.000 and 200 Free Spins. The Welcome Bonus consists of 4 huge bonuses for the 4 first deposits, with bonuses of up to €300. You need not wonder if there is a fetish with the number "1" over there at King Billy. It is just, as we learned, that the King "always adds one" to every bonus in the Casino!
• King's Gift. This is a cashback promotion that every player is entitled to. Every Thursday, His Majesty King Billy is giving a 13% cashback to his players (13% – didn't we just say that the King always adds one?).
• King Billy Casino is providing games fitting to a King! They all come from leading software providers, such as NetEnt, Microgaming, Play N Go, Yggdrasil, Betsoft and 12+ and others.
• There is a BTC section, too! If you happen to be playing with BTC currency, just press on the "BITCOIN" and you will be immediately transferred to the page of all games available to this currency. There is no way to say "no" to this!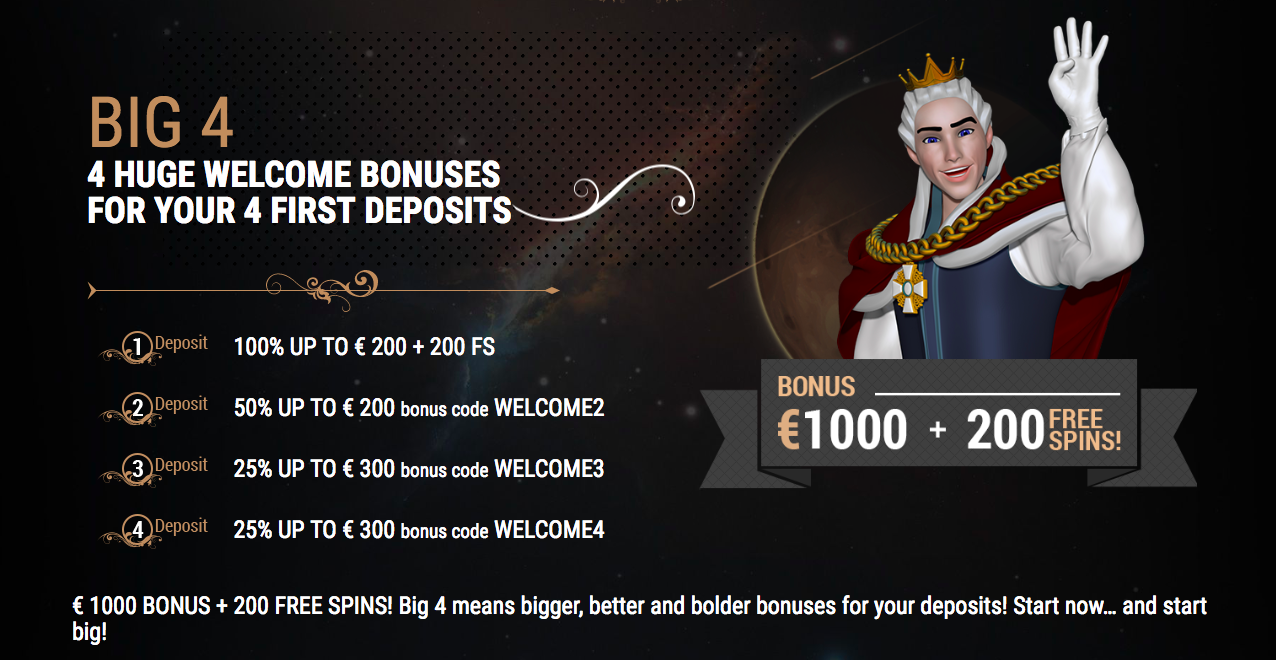 Fun Facts about King Billy
When one clicks on the "Legend" button at the home page, the whole King Billy kingdom and story unfolds in front of his eyes. What does also appear? A map of his Kingdom! Although at a first glance it looks like an Earth continent in an alternative Universe, the observant Nordic eye will spot the characteristic Scandinavian Peninsula located next to a location resembling Greece. Where politicians failed, King Billy succeeds, in bringing the North and the South together!
Regarding nomenclature, we learn that some like to call his Kingdom "Casinia", but King Billy himself calls it "the land of joy, the land of the slots, table games, poker games and jackpots, the land where the worries are little and the bonuses are big"!
In His Majesty's casino, everyone can reach the highest status of nobility. The loyalty scheme passes the testing of even the most rigorous pro-monarchy advocates. At the King Billy Casino, upon registration, everyone is given the nationality of the Kingdom and becomes a Citizen. But, by playing and having fun, one can become a Baron, Duke, Prince and finally a King himself, sitting right next to King Billy!
Regarding nomenclature, we learn that some like to call his Kingdom "Casinia", but King Billy himself calls it "the land of joy, the land of the slots, table games, poker games and jackpots, the land where the worries are little and the bonuses are big"!
Conclusion
So, this is the new kid in town, or rather the new… King in town! And it seems that King Billy is going to be with us for a long time. There are features and benefits, which every serious player expects and demands these days, and King Billy has them all: Payment methods both in fiat money and cryptocurrencies. A convenient, one-finger only mobile version. Appealing bonuses and promotions.
But what really makes this online casino different is the story. The legend of King Billy and his Kingdom, the inspiring graphics which support and enhance his myth and the fascination of starting your playing life as a Citizen and climbing up the nobility ladder make up a package that no player will find easy to bypass.
There have been a lot of online casinos with some hints at royalty, mostly on the name or logo of the casino, but it is the first time that a Kingdom and his King is fleshed out in such detail, creating an unforgettable experience for all players.
Long Live King Billy!