VoodooDreams Casino – 20 Free Spins on registration
New players at VoodooDreams also get a €1,000 bonus and 200 free spins in total. Register today to experience a truly unique casino adventure where the player decides what type of bonuses to get, and how often.
General Information about VoodooDreams Casino
VoodooDreams launched around 2 years ago and has since become the favourite casino for many players. The first thing you notice when entering the website is the dark theme and the neon blue nuances that stands out from the background. One thing that directly caught our attention, was the sidebar, that included an experience progress bar and a button with the text "Cast Spells". Wait, is this an online role-playing game or is it a casino? Well, why not a mix of both?
VoodooDreams Casino Welcome Bonus:
When you register a fresh account at VoodooDreams Casino, you are greeted with the first part (out of 5 in total) of the welcome bonus, which is 20 free spins. You will receive these free spins whether you deposit or not. The remaining 4 parts of the welcome bonus require deposits as they all contain a deposit bonus.
On your first deposit you will get a deposit bonus, that gives you 100% up to €100 and 180 free spins in total. The free spins will be split up in 9 packs with 20 in each. You get the first pack right after your first deposit. After that you get one pack per day the next 8 consecutive days.
If you decide to deposit a second time, you get a 100% bonus up to €300. If you deposit €300 you will get €600 in total to play with. On both the third and the fourth deposit you'll have the option to receive a 50% up to €300 bonus. Of course, all of the above-mentioned bonuses are completely optional.
VoodooDreams Other bonuses:
This is where VoodooDreams really stands out. This is because VoodooDreams leaves this part entirely up to you, the player. For each round you spin and win, you get two types of different points. Experience Points (XP) and Spirit Points (SP). Enough XP unlocks a new level and each level comes with its own set of spells. This is where Spirit Points come in. Each spell costs Spirit Points to buy, and each spell gives you a type of bonus. The spells are split into four different spell categories, which are, Blood Magic, Dark Magic, Light Magic and Spirit Magic.
If you're the type of player who enjoys free spins, then only choose spells from the Blood Magic tree. That's the only category that gives you free spins. Both dark and light magic will give you deposit bonuses, but the light magic spells are a bit more lucrative. Spirit Magic is by far the most lucrative category. Whatever spell you choose to cast in this tree gives you a certain amount of cash. You can choose to instantly withdraw the money you get from these spells.
VoodooDreams Casino Platform & Layout
We tested the casino both on our mobiles and on our laptops. In both cases we had a great experience thanks to the layout and categories. You don't have many options in the menu (or sidebar if you play on desktop). Yet, you can easily reach every part of the website through it. It's thought through and smart.
It's very easy to find a new game to play thanks to the well-designed game grid. The game grid is split up in categories, such as "New Games", "Top Picks", "Jackpots" etc. To the right of each category text you will find the amount of games in that category. This gives you a great overview of the game selection and greatly reduces the amount of time spent searching.
VoodooDreams Casino Unbeatable Advantages
A user-friendly game grid wouldn't mean much, if it wasn't backed up by a sold game selection. Luckily, in VoodooDreams case, it is. You can find games from most popular game developers, such as NetEnt, Play'n GO, Yggdrasil and Microgaming.
Have you ever played a slot duel? That is something you can do at VoodooDreams. We tried a couple of duels and it was a lot of fun. We really like this concept. You, and the casino player you're duelling, start off with 100,000 health points each. For every €1.00 that you win, you damage the opponent. For every €1.00 you lose, you take damage. There are 4 different strategies that controls the speed of the game by either maximising or minimising the amount of both damage taken and given.
With all that said, slots are not the only type of games that this casino offers. You will also find a good selection of live casino games, table games, video poker and keno.
Another huge advantage of playing here is that both deposits and withdrawals are quick and smooth. And when we say quick, we really do mean quick. The current median handling time for withdrawals is 5 minutes. That may be the fastest withdrawals that we have seen so far.
VoodooDreams Casino are licensed by MGA, Malta Gaming Authorities. This means that you don't have to pay any taxes on your winnings if you are a European player.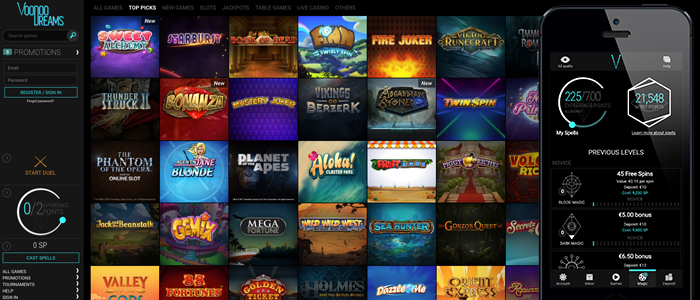 Fun Facts about VoodooDreams Casino
VoodooDreams is operated by SuprPlay LTD. The same company that in 2017 launched NYspins Casino. If you don't think that casting spells and dark magic are your things, but like the rest of what we have mentioned so far, we strongly suggest that you try NYspins out.
Conclusion
It has been a great pleasure playing at this casino. Everything is straight forward, and you get what you see. We love innovation and this casino comes with a lot of it. It's refreshing to have the ability to choose both when to get a bonus, and what the bonus contains. There's always something going on. A spell to cast, experience points to collect, bonuses to unlock, tournaments to win, new games to try out. Not having any downtime in our gameplay is what we like the most about this casino.