LarryCasino, The World's Most Awesome Mobile Casino
LarryCasino was launched just a couple of months ago, but it's already a classic. There is something on it that makes you feel right at home from the very beginning: The design, the gamification, the presence of Larry Laffer… We don't know exactly, but you feel really, really at ease.
General Information
Larry is Back. We all remember him from the saga Leisure Suit Larry games, and now we can join the new adventures of this quirky and flirtatious character and his friends in the Luxury Resort of Naked Island. If you already knew the video game, you will have a very sweet trip through your memory. Most surprisingly the youngest members of our team didn't recognize the character enjoyed the experience even more. How is this possible? Amazing gamification, the best providers, incredible design, Customer Support in native languages, quick payments, cool and frequent promotions… That's the answer. What else does a player need? There is no time to be bored in LarryCasino, not even time to breathe. Diving into the Larry's World, we have discovered an ocean of possibilities, and we are so curious about what we can expect from now on. We are just in the first levels of the gamification and the more you play with many surprises along the way you will find. We cannot imagine what is going to happen when we reach the final levels, but we are very excited, so let's play on with our enthusiasm levels high.
What LarryCasino Looks Like
One of the many facts that make this casino stand out amongst the crowd is his animation and colorful design. You will feel the sea breeze on your face and the warm sand on your feet. The palms and the sunbeam will be your company between spin and spin. But not everything is calm in the Naked Island. You will also find a lot of action behind every cocktail and every curve from the stunning girlfriends of Larry. These characters will be your family from now on and, trust me, it feels very nice to be a guest in the Luxury Resort. Very user-friendly and easily navigable, everything was thought out for a fluent experience where players can find readily what they are looking for. The games catalogue is very complete and constantly updated. The different game categories will help you to find the perfect game for every moment, from the Newest releases to the Spicy games and from the Broken Machines to the Larry Style games. What would we do without the Larry Style? That is our style now, and it will be yours as well when you receive your Welcome Passport.
Unbeatable Advantages
Gamification, gamification and more gamification. That's the word that comes to our mind when we think about LarryCasino. The experience is completely personal and fully adapted to mobile, so you will never miss your favorite games. Once you get your Welcome Passport, you are ready to collect coins everywhere, and you don't even need to play for that. The exclusive JokeBox (1 free reward every 12 hours), the Larry's Roulette and the Raffles will give you amazing rewards while you are reaching new levels and unlocking objects and new characters. And if you are a true Larry Style player, be ready to win an exclusive Larry Laffer action figure and then enjoy the Best Weekend of Your Life, a tailor-made weekend 100% Larry Style. LarryCasino provides you a full experience, totally customized for you, and invites you to participate in the Larry Adventure. Larry is in love with Kym, the Casino Manager, and he needs you to win the Jackpot and meet her in her office. There is only one opportunity. She stole his heart, and only you can help Larry to find a happy end. And to get this there is something very important you should remember: Play with love.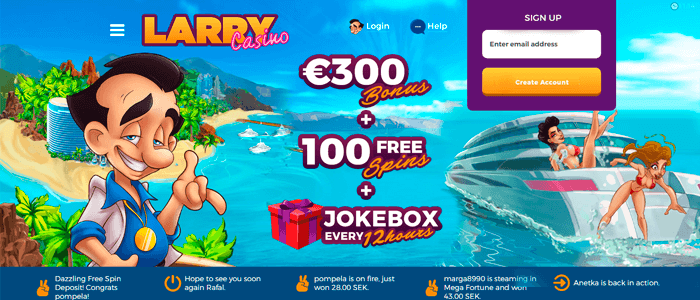 Fun Facts
What was his name, Larry Laffer or Larry Laugher? Everything in LarryCasino is fun. This is a branded casino based on a very fun video game so you can imagine. There is a spicy double meaning on every corner, and everything is presented with a smile. The characters interact with you and make you feel part of the story. They will be your personal guide through this crazy Larry's World. They introduce the different areas of the Luxury Resort and the different features as well. They sign the emails you are going to receive offering you succulent promotions. But these are not the typical promotions. Don't be afraid if the subject of the email is a bit spicy or if your mission is to find five hidden dildos. That's part of the Larry Style. If you like the adventure and you have a sense of humor, you will like LarryCasino for sure.
In Conclusion
This is a very fresh product, an oasis in the middle of the desert. A group of veterans from different departments in the gaming industry decided to launch a casino with everything they missed in the other ones. They wanted to give the player the best experience ever, and surprisingly they made it. They have had a great idea, and they have taken the project very seriously to develop a very powerful product. The gamification is amazing, and the design is wonderful, the Customer Support is always nice and helpful, and it is available in several languages, the payments are really fast, and the promotions are great. On top of that, LarryCasino is the funniest casino we have ever seen, and it is perfect to play on mobile. We are already seduced by this crazy character and his friends. We have the Larry Style. We play with love. LarryCasino: 100% enjoyable, 100% trustworthy.
"Aussies"
Be great if aussies could play here a looks to be fun with a good rangr of games and a good deposit bonus and a had great customer service in chat very punctual hope i can play here sometime in the future a good look to all of ya a a