DasIstCasino – The German elegance of online casino.
With the Brandenburg Gate welcoming it's visitors right on the homepage, this casino sends out a clear message about its own origin. Playing at DasIstCasino gives you the opportunity to experience a bit of Germany from the comfort of your home.
General Information
When it comes down to the German approach to be perfectionists, combined with the most exciting games on the Internet, then look no further than DasIstCasino, and you've probably heard or know a thing or two about what it means to receive German service. Punctual and orderly are just the words that might pop into your head, and these guys are certainly here to live up to that image.
You must be new if you still haven't heard the buzz about DasIstCasino. It's about time these guys were on your radar. Their clean and crisp website lets you jump straight into the gameplay, without any hassle. Straightforward and to the point is often the best way to go.
But don't think that it loses its charm and elegance, you would be mistaken. It wouldn't be a German casino if it didn't let you discover Germany. For avid searchers of extra thrills, the casino's adventure mode will definitely pique the interest of all players. Read on to find out why!
What DasIstCasino Looks Like?
Hey, if you hadn't already noticed, we should mention that the colors of the German flag and the more-than-recognizable silhouette of the Brandenburg Gate let you know from the very start that this casino has German roots. What's more, you won't encounter any of those wacky characters you're so used to seeing everywhere else.
When the competition chooses to include a lot of visual rubbish and clutter on their websites, DasIstCasino appeals with its simple and minimal design – an excellent approach! All elements of the website are perfectly in place. Speak of being organized.
A big shout-out has to make to the game placement bars of the main lobby. If anything they, remind me of the slot reels themselves. If you weren't pumped to play, this would definitely get you in the mood. You'll be able to see all the newest releases in the New Games column, games preferred by players in the Most Popular column, only the top quality games in Top Games, and for the big reward hunters the Jackpot Games. Ease of navigation is a staple for these folks.
Promotional Benefits
One of the benefits of working with the SoftSwiss platform is that the casino can proudly boast the orange Bitcoin-Friendly label on its website, while rewarding players with the ultimate and best of what modern technology can offer with the Bitcoin payments.
If you're coming to a new website, you most likely dread having to slog through the same old registration process every single time. Well, have no fear; DasIstCasino is here, where the sign-up process takes 4 seconds (which they kindly tell you just above the sign-up form).
Joyfully yodel your way to the first deposit bonus of up to 1500 EUR or 1.5 BTC + 100 Free spins (yes, you read this right!) for the Domnitors and Slotomon Go games. No delays involved, money in your account, lightning fast.
With the second deposit bonus to match the first, this house of luck offers up to 1000 EUR or 1 BTC + 75 Free spins, on Platinum Lightning and Domnitors and did we hear you say that you would like to make another deposit? Well here's your 1000 EUR or 1 BTC + 75 Free spins on your third deposit, which you can boldly take to Slotomon Go and Platinum Lightning.
If you think you know what variety is, just have a glimpse at the astounding 17 providers offered. No really, see for yourself!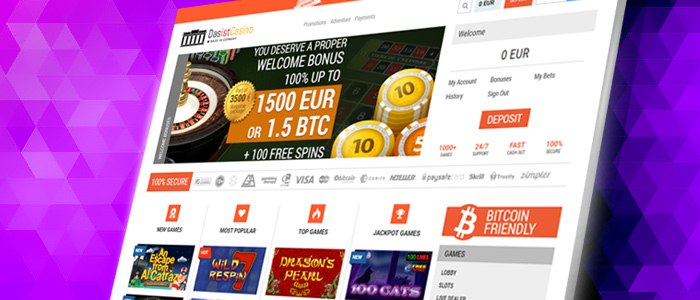 Fun Facts about DasIstCasino
Clicking on the adventure button at the top of the home page will take you to an outline of Germany. We dare you to test your wits and match the state emblems to their respective territories. But hey, don't worry if you don't get them all right immediately, you can always discover them by playing.
Have you heard that DasIstCasino offers some beefed up support services? Now you have! Behind the website is an entire team of professionals looking to make your experience as blissful and trouble free as possible. Help is one-click away at all times, and the player support won't disappoint. We might even go back just to have a casual chat even if we aren't playing.
The casino certainly does not shy away from its lucky winners, but rather proudly sports them up on top. It is literally the first thing you recognize when entering the website.
Last but not least, the handy sidebar will let you skip directly to the payments or search for providers if you prefer games of a certain brand.
Conclusion
DasIstCasino is the tried and tested house of luck, established by a team with vast experience in international online casino operation that carries that German spirit. It will be your welcoming host for hours on end, offering numerous perks to both experienced players and casual enthusiasts. Be it real money payments, crypto, competitive chats support or thematic newsletters – they have it all, you name it! Our personal favorite is the smooth and seamless version of the website that has only the stuff and not the fluff.
However, what really has convinced us on this particular casino is the Adventure mode. This is the much-needed layer of gamification that strives to diversify the trite online casino experience. Don't forget that for every new land discovered you get a whopping new reward with a grand prize upon unlocking the entire map. It is this element of exploration that gives DasIstCasino its competitive edge.
Sure, you've seen many casinos out there, but have you seen one that would present the main essentials and get you rid of having to see the exact same cute mascots like you do on each and every website? No! Why, you ask? Because DasIstCasino translates into (English: This is Casino).
Enter the gates and embark on an adventure to victory! This is no ordinary casino, this is German superiority at its best and our name is DasIstCasino!