Rizk's Brilliance Is Blowing The Casino World Away
Rizk is fairly new in the online gaming world but what we've seen so far is enough for us to boldly declare that this online casino offers up a gaming experience like no other. We enjoyed a completely immersive gaming experience from the moment we signed up to the moment we cashed out our winnings.
General Information about Rizk
Rizk is our Casino of the Month for two reasons, their rewards system is remarkable, and secondly, we thoroughly enjoyed their attention to their player's needs and wants. We particularly enjoyed their Wheel of Rizk which is simple enough to understand, even for casino newbies. The Rizk Power Bar fills up while you are playing games at Rizk. As soon as you fill it up, you get one level higher and activate the Wheel of Rizk. From here, it's a simple matter to spin the wheel, and when you do, you win a variety of different rewards. We won free spins, Rizk Race points and even free money. We were also particularly pleased with how user-friendly the entire site was. It was laid out in such a way that we had easy access to their impressive array of games, their payments systems, and even a Rewards Section which is where all your rewards are stored.
What Rizk Looks Like
The casino has been laid out in such a way as to make the entire casino easily navigable. They have paid a lot of attention to the players and have placed all the various sections in such a way that it's easy to find everything you could want. The site is clean, well laid out and we enjoyed the way Captain Rizk and his sidekick Lucky have been placed around the casino for entertainment. The main casino lobby, which looks like it's Captain Rizk's base of operations, displays everything from the latest promotions to the latest game releases and any other important piece of information that players may need to know. We also appreciated the games section which includes various sub-sections and an impressive array of games from all of our favourite game providers such as NetEnt and Yggdrasil.
Unbeatable Advantages at Rizk
For us, as seasoned gamers, it was really enjoyable how the casino constantly sought to entertain us from the moment we logged in. It wasn't just the games, the layout, the Wheel of Rizk or the leveling up (which turned into a bit of competition between the testers). It was the way everything was given to us. We received emails that were personal (from Captain Rizk himself) and besides the amazing promotions, also made sure we were entertained. We took a look around Rizk Insider, the blog section of the site and we came across the Rizkstock promotions which included Spotify playlists for us to listen to while we played. Small little features like that really make Rizk stand out for us, and it shows that the casino team doesn't want you to simply play a game and then cash out winnings, they want to make sure you have a good time. It reminds of Las Vegas where you're encouraged to enjoy a host of other activities and not just the tables.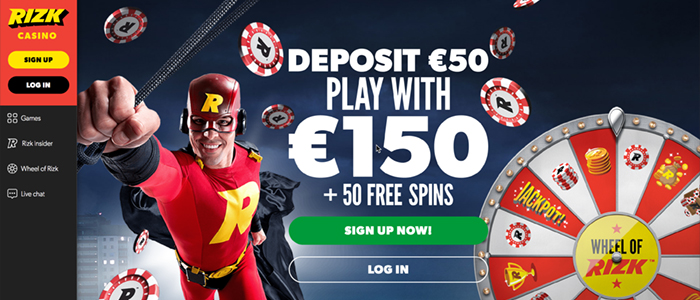 Fun Facts about Rizk
– Captain Rizk and Lucky are featured throughout the casino and it's communications. You never know when Lucky will pop up to dish out free spins, "he dug up while in the garden". Or if the Captain is feeling a little generous on any particular day and hands out free spins to try out a new slot game the casino has just released.
– The casino is always trying to provide some form of entertainment to it's players such as the Rizkstock promotion with the Spotify playlists. When receiving an email from the casino, you never know what you could get. It could be something as simple as a 50% reload bonus or it could be a massive surprise promo where you could win 50 free spins every day. The one thing you can be assured of when visiting Rizk is that you'll never be bored.
– Rizk is a multiple-award winning online casino and was named Best New Casino 2016 and Best Player Experience 2016
In Conclusion
This casino certainly surprised us and when we signed up, we could not have possibly imagined what we would have found. There are a few online casinos that are experimenting with this new approach to gaming, but none of them did it as well as Rizk. Everything on the website has been meticulously arranged for players enjoyment. The games are wide and varied, the payments are quick and simple, the promotions are exciting and frequent and the casino staff is knowledgeable and extremely efficient. All in all, this is one truly amazing casino and one that deserves its two awards for Best New Casino and Best Player Experience.