Karjala Kasino – World's first Karelian Casino
Karjala Kasino is a modern online casino with a traditional Karelian design and 500 free spins or 500€ in bonuses to choose from. Join in and get 100 free spins without a deposit for verifying your phone number.
General Information about Karjala Kasino
Karjala Kasino was launched in the second part of 2017 and it has already charmed casino players with a homely touch and clean design. The team behind Karjala Kasino wanted to focus on delivering a product that works fast and is easy to use, and they did not fail on their mission. It's clear from the first note that these people know the tune that will make players dance; signing up is easy, the sign up bonus arrives immediately after you verify your phone number and payments work without hiccups. Add a couple of hundred casino games to the mix and we have a recipe that's full of mind bending thrills and sweet wins. Karjala Kasino has a multilingual support team that will help you out every day of the year, rain or shine, If you have questions regarding registration or any other casino related issue. Finns, Swedes and Norwegians will be served in their mother tongue and international players will be helped in English.
Design and Layout of Karjala Kasino
Karjala Kasino is a truly gorgeous online casino and you can see that the team behind it knows the culture, nature and history of Karelia through and through. Logging into Karjala Kasino feels like stepping into another century where fake news and orange presidents didn't exist yet. The logo of Karjala Kasino is a beautiful old fashioned one armed bandit created in the traditional Karelian stitching. This stitching and the creative idea from the logo is used in an ingenious way to create the overall look of the page. You'll see many familiar symbols rendered in red Karelian stitching throughout the site. Karjala Kasino gives all new players 100 free spins to Fire Joker and this fact is nicely represented with a Fire Joker banner on the front page of Karjala Kasino.
Unbeatable Advantages at Karjala Kasino
Modern people want to decide what goes into the recipe of their life. We want to tailor our lives, and the same applies when we play online. The more you can tailor your own casino experience, the better. When you enter Karjala Kasino you are the ultimate person who decides what happens. Do you like free spins more than deposit bonuses? At Karjala Kasino you can choose between 500€ in deposit bonuses or 500 free spins spread over the five deposits that you make at Karjala Kasino. You'll also receive a daily bonus into your email from the lovely people of Karjala Kasino.
You can claim a cascade of bonuses when you join at Karjala Kasino if you do it the right way. You can normally find a Game of the Week offer and a Game of the Month offer, which are available only for new players who created their account during the campaign period. Start your journey at Karjala Kasino by playing your sign up free spins, then claim the free spins for the Game of the Week and Game of the Month, and move on to the welcome bonus, which will sweeten 5 deposits with either free spins or deposit bonuses. The minimum deposit is a tiny 5€, and that will often be enough for claiming a bonus or two.
● Choose your welcome bonus; 500€ or 500 free spins
● Minimum deposit 5€
● 100 free spins on sign up without a deposit
● Only casino in the world where you can play in Karelian
● Multilingual support in Finnish, Swedish, Norwegian, English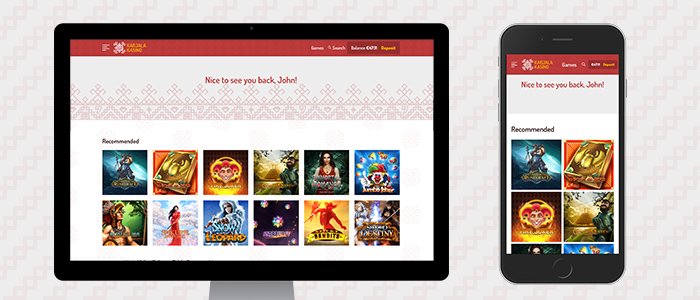 Fun Facts about Karjala Kasino
Karjala Kasino is not yet in the Guinness Book of Records, but it could be. Karjala Kasino is officially the first ever casino to be available in the Karelian dialect which is spoken in the eastern part of Finland. Every Finnish player will recognize this funny little feature as something unique. If you thought Finns are quirky, you should go check the Karelians out! Karjala Kasino's game selection is deep and they offer games from the biggest developers like NetEnt, Microgaming, Quickspin, Evolution Gaming, Yggdrasil and Play'n GO. All new games are also used in the daily offers that you'll receive to your email if you register at Karjala Kasino. And now something for the tech heads; The web application that Karjala Kasino has built in-house is unique and it guarantees that Karjala Kasino is one of the fastest casinos on the web. Continuous optimization will keep making the page faster and faster, so you'll never need to wait to spin again.
Conclusion
Karjala Kasino is a relatively newcomer in the casino market, but it looks and feels like a seasoned pro. The overall look was inspired by traditional Karelian designs and you can even browse the site on Karelian dialect. You can start playing without a deposit if you verify your phone number, and when you do want to deposit, it's easy and painless. All major payment options from credit cards and prepaid cards to e-wallets are available. All deposits land on your account instantly so there's no delay when you want to get your spin on. The minimum deposit is small so playing at Karjala Kasino won't break your bank. Go see for yourself what a modern and robust online casino feels and enjoy the sign up free spins!